Today you can see an exclusive interview with an amazing interior designer from New York City!
With your particular and excluisive style, Kaja Gam, will show you some of her inspirations, creations and ideas to 2014!
We hope that you like it:
What is your philosophy in the field of creation?
Design is a product of the human interaction between people, and design is the process of the collaboration between designer and client.  It is truly less about furniture and trends.  The most important thing that sparks good design and gives the most unique and lasting results is for the designer to listen.  To listen to the space and to listen to the client.  To understand through that first interview process what it is the client wants and needs.  Some of those answers are straight forward, but often times a client has needs and desires that are not expressed in words or images collected from the web.  Often times the design comes to life from the things left unsaid and from the subconscious.
If I can sense the whole of a clients and his/her environment, and if the client lets me take the reins, I can create a unique and fulfilling design for them.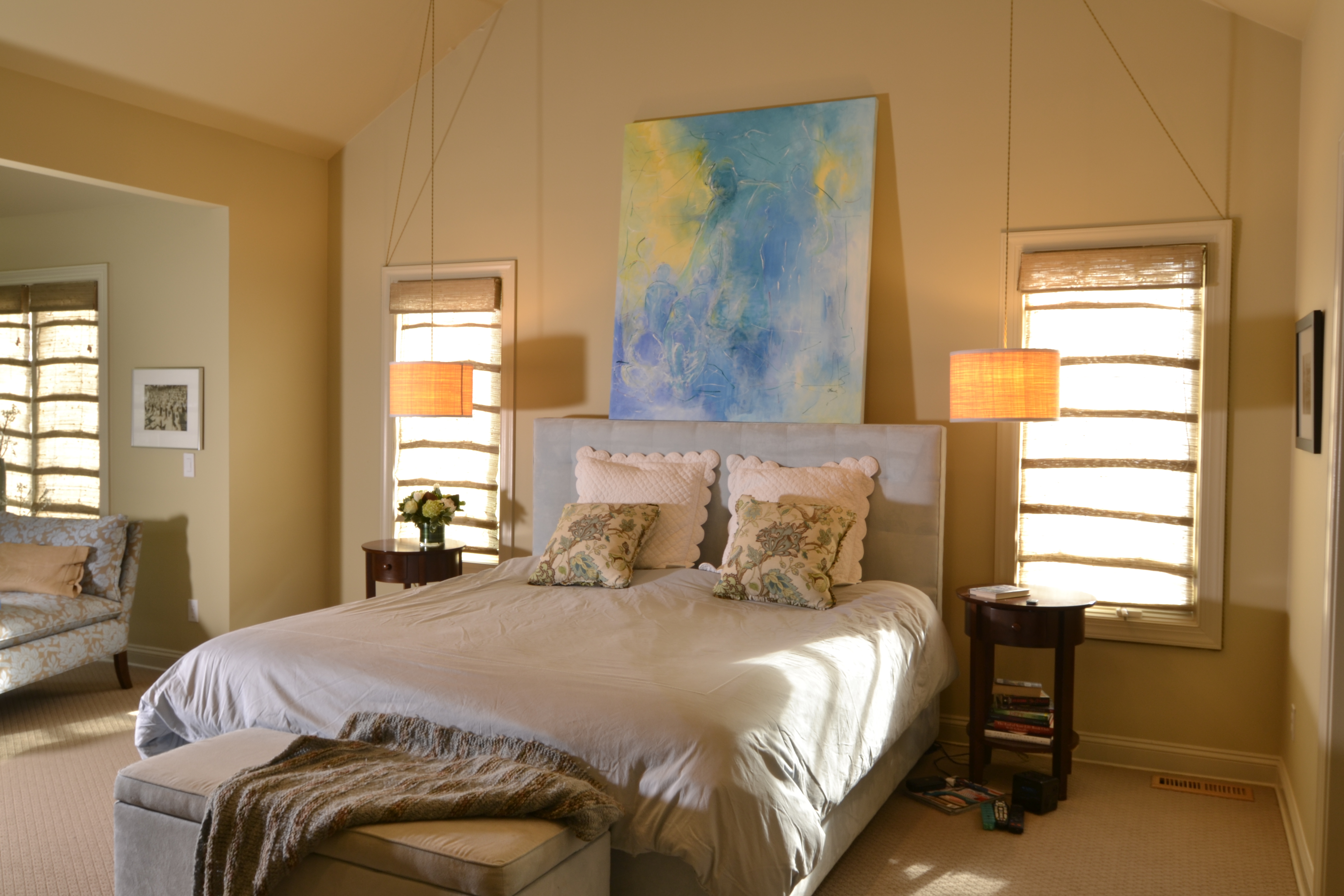 As you work, can you tell the boundaries between design and art? Or is one thing inseparable from the other?
The boundary between design and art is fluid, but the difference between the two lies in what is expressed.  As a designer I may express some of myself through my work, but the focus is always on the client.  When I paint, it is to fulfill my artistic desires and not those of the person I may envision will buy my paintings.  That said, unless I invest myself in a project in a similar way as when I do my art work, the design will be lacking.
Is photography a passion?
I am fortunate that my husband and partner is also a professional photographer, so my images are always good.  When it comes to the vignettes and the close-ups I do most of those myself I take it very seriously and this is where the compositional skills of the artist comes in.
How about product design? Tell us a bit about your collection of projects?
I used to say that there are enough chairs, rugs and sofas out there so that I should be able to find what I need, but in the last few years I find more and more that pieces are missing something, be it shape, size, or material.  I have designed chairs, tables, rugs and sofas, mostly spurred by a specific need to complete an interior design project, and some of these pieces I feel are timeless and can stand on their own.  I have started with the rug designs, since the medium and the process is very similar to my artwork.  We are in the process of launching a few designs of our rugs to a larger audience starting with the twigs motif and will also later introduce a large abstract floral motif as our two main forays into the market place.
We continue to design custom furniture for clients, but have not decided to create a furniture line at this point.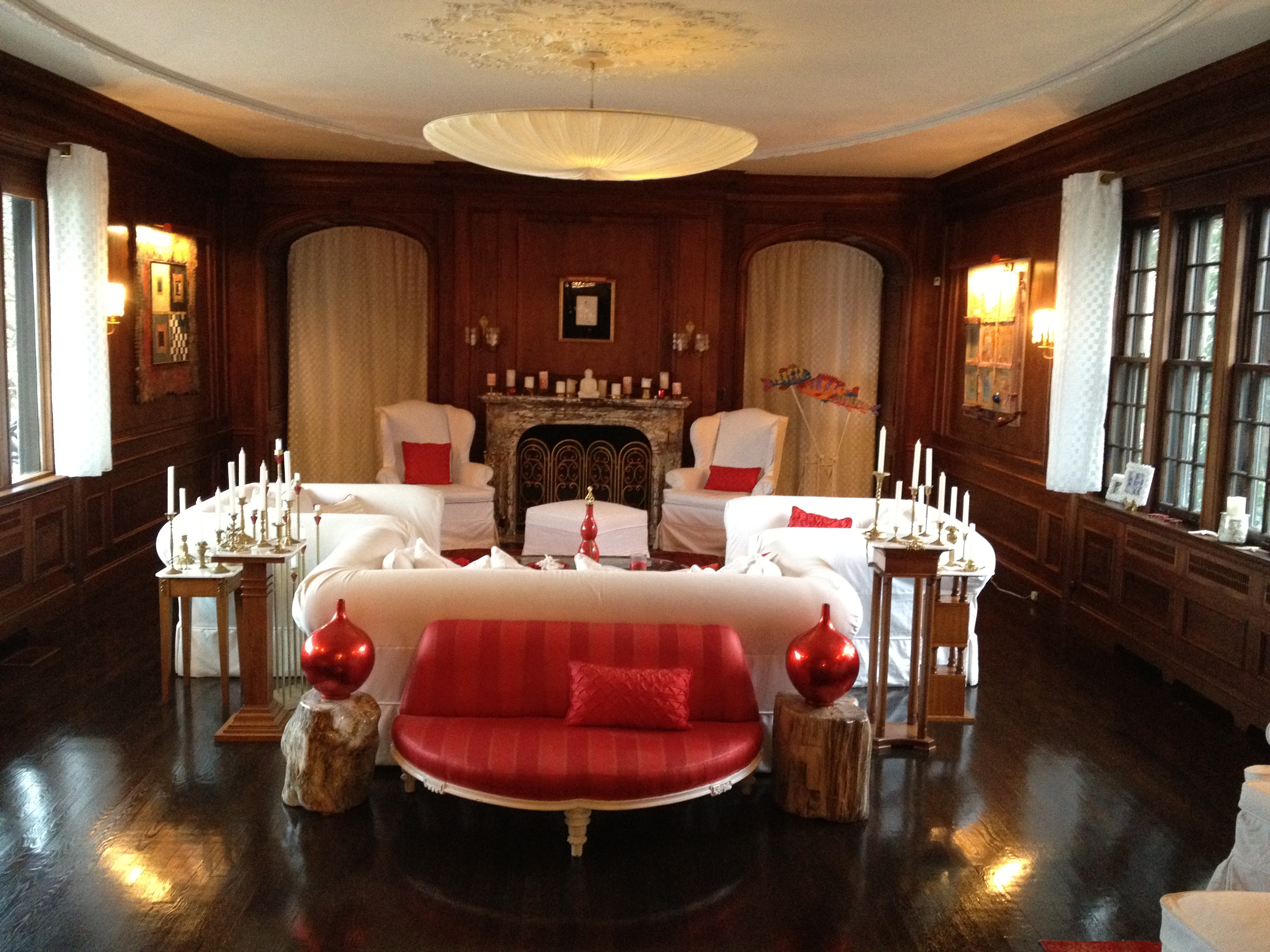 In interior design, how would you describe your style? What inspires you? How do you create an interior design project, whether it is a commercial one or a home?
I usually say that I want anyone walking into one of the rooms I have designed and say; wow! This is a beautiful/creative/fun/extraordinary space!  This is a PERSONAL space. This feels like home, it is cozy.  (You chose the superlative).  The Danish expression is 'Hygge', and is not easily translated but encompasses everything from the feeling you get from afternoon tea with family to the feel of a space.  What I don't want to hear as the first thing is; "Where did you get that couch?" That to me says that the focus is more on the individual products then the overall design.
It is about the whole of a room or a home.  It has to be livable and yet with style.  I am personally inspired by European traditions.  That includes midcentury modern, but also the colorful relaxed environment of traditional homes in my native Denmark, notably the Biedermeier and Danish Arts and Craft periods.  Most Danes inhabit their homes with heirlooms: Furniture handed down through generations, and they are therefore fine with spending a bit of money on anything new to complement their homes with.   A home should not feel as if you swiped the slate clean and started over, but rather that you have acquired pieces one after another and added to the room.  So my style is eclectic, and that often means that I can work with furniture my clients already have, and put those pieces into a new context they did not envision.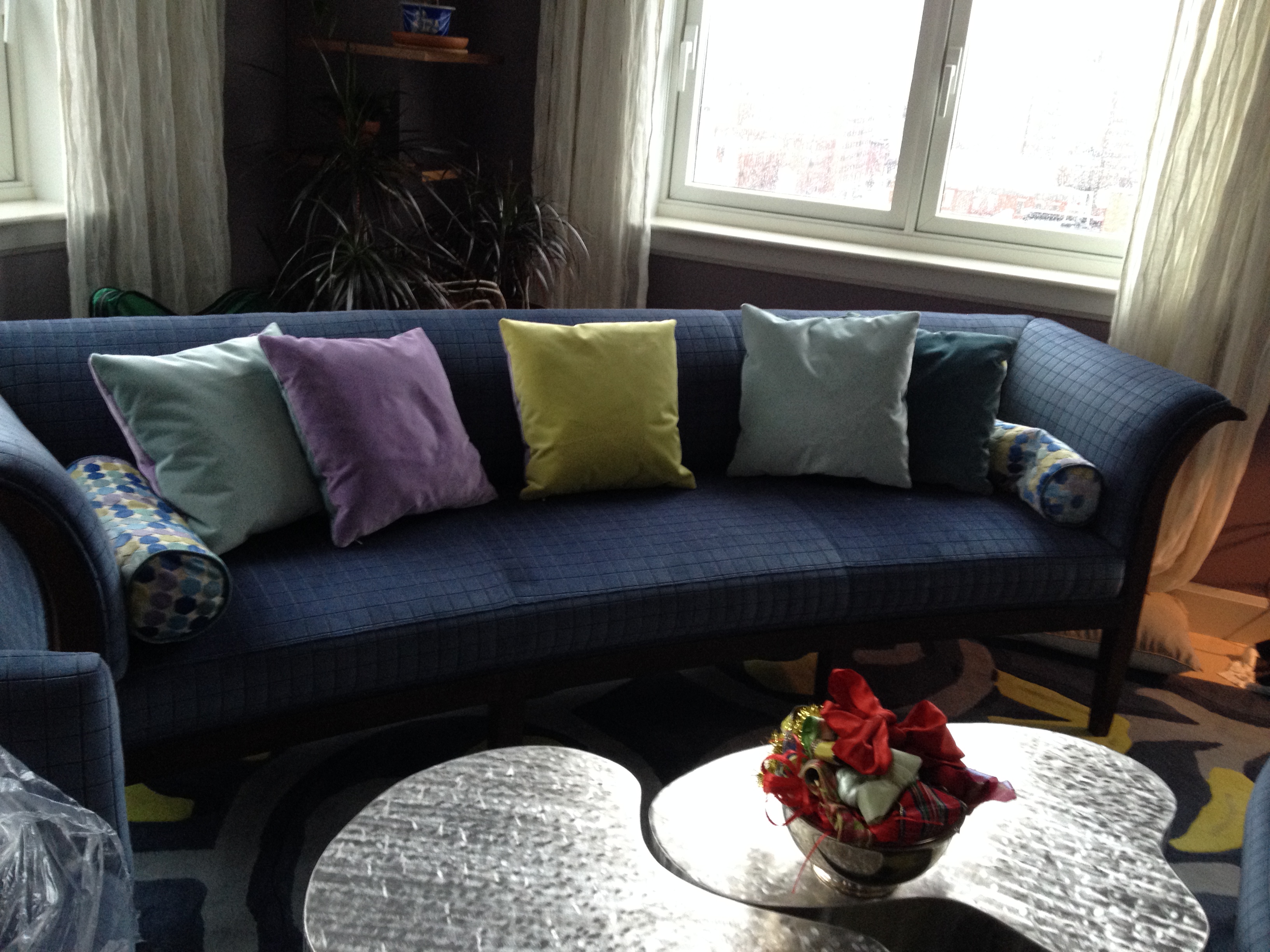 In your opinion, which will be the top trends in interior design for 2014?
2014 is almost over (if you are a forecaster) so this is also a prediction for next year:
We will continue to see earthy tones and pure whites in walls and floors with mixed materials as the back ground for the stronger color accents in furniture and fabrics.  Commercially, the driftwood look or reclaimed lumber is taking hold as a design element as is the bare bulb barn light look, and this trend is not going away anytime soon.  There is also a trend of 'dressing down going aerier', which means that the materials used are simple or closer to the source; linens, wool, cotton, beech-wood, rubber.  In this setting a Victorian chair painted bright green, orange or pale whisper sea blue, will take center stage next to a comfortable low sofa and a pitted steel table with a vulcanized panel in black rubber.  The sensibility of 'found objects', is a strong element for the time we are in.   The commercial and retail design elements are working off the same ideas, but with materials that are meant to stand up to the wear and imbue a sense of reaching back to the source.
I also foresee Art Deco and Bauhaus coming back strongly, but rather than a replica of the 1930's formal interiors with high polished rare woods, we will see the form of the period in new materials and finishes both in furniture and décor.
The renewed interest in the speakeasy and private club era lends itself to an interesting mix of these trends for both retail and restaurants.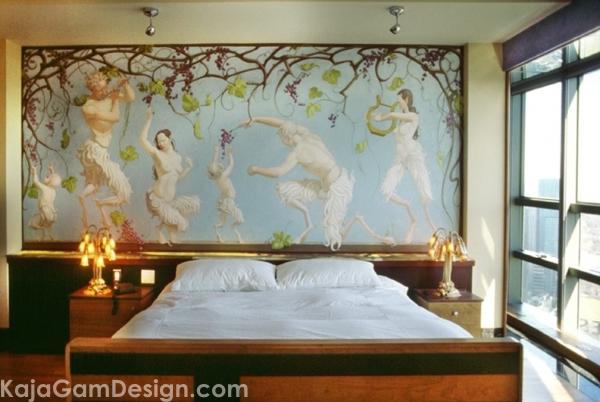 Private Space/bedroom
The room I have chosen for you has a special place in my heart.  Not only did I have a chance to decorate and help the client chose how to design each room, but I also had the rare and precious opportunity to design 4 murals in this apartment.  The bedroom is seen from the large living room through a small study, and since there are no doors in the entire 4000 square foot apartment, the design and the murals had to be cohesive and co-exist in the scheme of the larger environment.
The apartment is overlooking Central Park from the 73rd floor, and the theme for the murals is Central Park and New York at the height of the Art Deco period. Most of the furnishing is French and covers the period from Art Nuveau with its organic curves into the stricter and more rectilinear Art Deco.  The Mural behind the bed was inspired by a back-lit frosted glass panel my client had purchased in Paris.
The view into the bedroom through the study with a ceiling mural of Central Park.
Kaja Gam
Kaja Gam Design, Inc.
Best Design projects will continue to informing you about the greatest projects around the world with the best exclusive interviews. We like,as much as you, to read all design for your own home, the latest decor trends, the best interior design projects and so on.
Don't forget to subscribe this blog and to follow us on Facebook, Twitter and Pinterest.